My girl, Sarah, at Simply Sarah Style has tagged me! If you aren't already following Sarah's blog and you love all things DIY and Fashion you should check her out!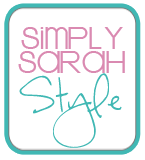 Game Rules:
You must post the rules.
Post 11 Fun Facts About Yourself
Answer the questions the tagger set for you in their post.
Create 11 new questions to ask the people you have tagged.

(didn't have time to do the rest of the game... had to work on my baby's 2 month post)
Tag 11 bloggers and link them to your post.
Let the bloggers know they have been tagged.
11 Fun Facts About Me
I married my college sweetheart. We met while taking a smoke break outside the dorm we lived in. Neither of us smoke. Haha!
I am really good at board games. My favorite is Scattergories.
I have 10 siblings... 8 sisters and 2 brothers.
I have never been a fan of working out, but really liked Zumba. Since I don't have time to go to the class anymore, I crank up the music and dance around the room with the Zumba moves I remember. I'm sure I look ridiculous, but at least Henry thinks it's amusing. :)
I prefer hot chocolate to coffee.
I watch The Weather Channel all the time! Mainly for background noise, but I do love a good storm story!
I was raised Southern Baptist, married a Catholic and now consider myself something of a hybrid.
I never tire of the song "Say My Name" by Destiny's Child. It reminds me of the good ole days in high school.
I am REALLY good at hoola-hooping! I could probably hoola-hoop for hours and almost never lose if someone challenges me. Heck, I could even do it pregnant!
I take pride in the fact that my college education was 100% self-financed and I had a 4.0 Major GPA.
I broke my arm 3 times... when I was ages 5, 6 and 7.
11 Questions From Sarah
What made you want to start a blog? I loved reading other blogs and saw where someone made theirs into a book. It seemed like a fun, easy way to record my memories and eventually print them into a book.
What are your top three blogs to read? These are all people that have lived or do live in Lex... Simply Sarah Style, Confessions of a 20 Something, A Blue-Eyed Boy Met A Brown-Eyed Girl
What are your favorite things to "pin" on Pinterest? Recipes or simple home decor projects
Where are your favorite places to shop for home decor? Home Goods and Kirklands
Where are your favorite places to shop for clothing bargains? I don't like to dig for clothes at discount stores... I much prefer to wait for good promo codes or coupons at stores such as The Limited, Express and Gap. I also like going to outlets.
What is your favorite color combinations? Navy/White or Teal/Grey
Do you collect anything? I have way too many candles!
What is your favorite thing to cook/bake? Anything I can throw in a crock pot.
In what ways do you connect with other bloggers? I've just now started linking up and doing swaps.
What is your favorite holiday? Halloween
What, if any, is the most recent thing you have made from Pinterest? Puppy Chow Mix - it was delish!